Authorial projects of library
Young people spend more time working with computers, than in libraries. That's why we tried to make innovations in our work, in order to invite more people to our library. To achieve this aim we hold different artistic and cultural events and create 4 projects with people, who have a talent to associate with big audience.

We dedicated a few celebrations to a jubilee of Chernivtsi – about 600 years passed from a day, when a little and charming city was mentioned in an official document at first. One of the project was called "The History of the streets and their residents", led by researcher of Chernivtsi National University named after Jurij Fedkovych, etnographer and archivist Maria Nykyrsa.
We began our story with Ukrainska Street, 22, because the building of Municipal library named after A. Dobrianskyj is situated here. It's a luxurios villa, built in modern style at the beginning of XX century. It belonged to Fishers' Family. The editorship of the oldest newspaper in the region "The Soviet Bukovina" was situated here after Second World War. It was the oldest newspaper in Chernivtsi, initially found by Jurij Fedkovych in 1885, and its first title was. The editorship of nowadays "Bukovyna" is still situated on the second floor of this building.
The cultural and literary life was always active here. Any intellectual, who lived in Chernivtsi or visited the town like a guest, didn't pass by this building. Iryna Vilde, Andrij Malyshko, Oles Gonchar, Vjacheslav Chornovil, Taras Melnychuk, Tamara Severniuk once had worked or visited this place. Volodymyr Babliak, Myhajlo Tkach, Anatolij Dobrianskyj, Bohdan Melnychuk, Myhajlo Ivasiuk, Volodymyr Myhajlovskyj had written the first their articles here. Regional Union of Writers was situated here. Nazarij Jaremchuk, Volodymyr Ivasiuk, Pavlo Dvorskyj, Ivan Mykolajchuk, Sofia Rotaru also visited this building. Film producers made movies Being inspired by luxurious interiors and convenient situation of the building film producers made movies such as: "Where have you been, Odisay?", in which Donatas Bonionis played the main role; "Luchefarul" (Emil Lotianu), that was dedicated to Mihaj Eminesku; "Waltz Melancholic" (Borys Savchenko) by the motives of Olga Kobylanska's novels.
The cultural and literary life continues nowadays, because people from the whole region visit the editorship and library. The National Ucrainian Home is situated in front of library at the same street. Very important events of Ucrainian cultural and public life have been held here for 120 years. Ivan Franko, Lesia Ukrajinka, Bogdan Lepkyj, Jurij Fedkovych, Sydir Vorobkevych, Oleg Olzhych and many other famous people visited the National Ucrainian Home, where they read their works. One more building, projected by Czech architect Jozef Hlavka, is situated nearby. It's Armanian church (The Hall of chamber music at present).
Authorial programs "Architectural Etudes of Chernivtsi", prepared and led by a cognoscente Svitlana Bilenkova were also rather interesting. She told about landscape and architectural styles of Chernivtsi, brilliant models of European building.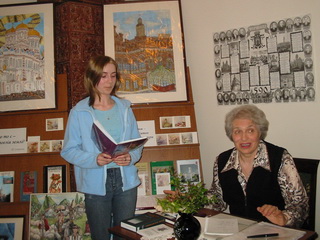 There is a big shelf with collections of Ucrainian and foreign poetry in Anatolij Dobrianskyj's funds of books. As we know, Anatolij Dobrianskyj appreciated to write poetry, when he was young. He dedicated his scientific work to the problems o sonnet. Many talented and thankful friends or students read their poetry in Anatolij Dobrianskyj's flat.

We created a new project on occasion of International Day of Poetry, that is called "O, What is it – the Poetry of earth?", in order to keep a good tradition of writing and reading poetry. It is lead by Tamara Severniuk – the Honored Artist of Ucraine, poetess, translator, the author of 27th poetry collections, the winner of International Prices named after Volodymyr Vynnychenko, Sydir Vorobkevych, Volodymyr Babliak, Dmytro Zagul. Pupils and students, who translate, write poetry and prose, are interested in this program. 14 of them have taken part in a nationwide competition "My Motherland: Ucraine on childrens' point of view".
Our readers are eagerly waiting for new meetings with fashion designer Svitlana Krachylo, who is the author of program "Silhouette of the City". We talk about fashion, that was typical for Chernivtsi 100 years ago, about clothes, that are and will be popular in the next seasons. All clothes are demonstrated by students, who will be designers in future. Young people present our city the same as our country, that's why we have to teach them, how to dress in good taste.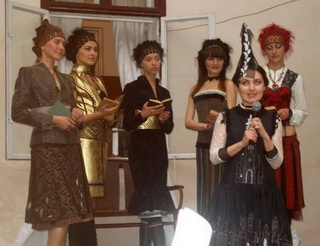 The functioning of our library attracts attention of many citizens. Czernivtsi is a town, where as Georg Gainzen said, "carriage drivers discussed the Karl Kraus's governance", and "there were more bookshops than bakeries". We opened literary meetings "The Book in our life" due to numerous suggestions of citizens. Our guests were: Honored Artist, composer, singer, scholar of Czernivtsi National University Ivan Derda and his family; famous architect, activist and deputy of City Council Dmytro Sirman with his family. Prof. Nadija Babych and young scientists Valentyna Cholkan and Nina Kozachuk presented some parts from their own book collections.